What to Expect When You Book a 4x4 OBX Vacation Rental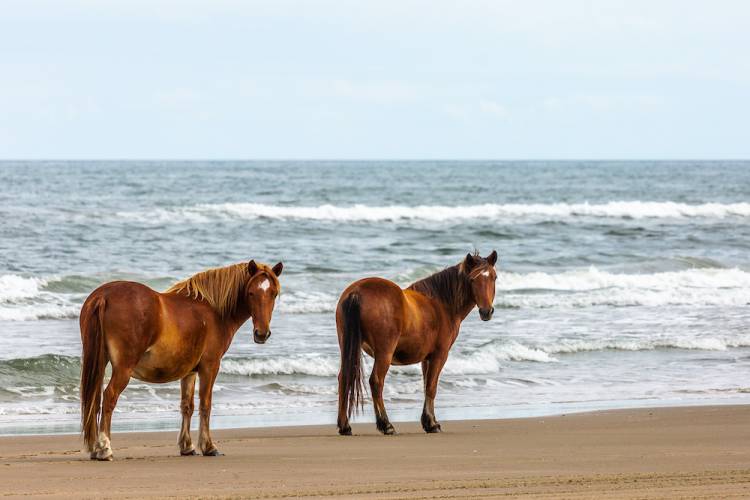 Looking for a unique getaway to experience the beauty and wild natural environment of the Outer Banks? Book a 4x4 OBX Vacation Rental to have a private oasis on a remote island. Be on the lookout for the wild horses, enjoy days at the beach, and cast a fishing line to reel in a big catch!  
Getting There – OBX 4x4 Driving 
These remote beach houses require a 4-wheel drive vehicle to cross through the beaches to get to your home-away-from-home in the Outer Banks! But how do you prepare for this journey into nature? Luckily, we have your guide to everything you need to know before you arrive at your Outer Banks 4x4 Vacation Rentals!  
Although permits are only required if you plan on parking on the beach itself, it may be a good idea to recieve a Beach Parking Permit before your wheels hit the sand during the summer. The permit system is in effect between Memorial Day and Labor Day. You can purchase either a seasonal or 10-day permit, depending on how long you plan to stay and pick up your permit before you head out to your vacation rental.  
Once you are ready to go, you need to know the rules of the road (or sand)
First, your tire pressure needs to be lowered to 15-20 psi in order to have more surface area on the sand 
The speed limit is 35 mph and 15 mph when within 300 ft of a pedestrian  
Saltwater can damage a vehicle and should not be driven through 
Be aware of changing tides and how that can affect the sand road 
Be mindful of wild horses and other wildlife 
Please follow standard rules of the road such as using turn signals and yielding to emergency vehicles 
Things needed in your vehicle: low-pressure tire gage, jack and jack support board, and a shovel 
Other good things to have: flashlight, first-aid kit, a spare tire, fire extinguisher 
Outer Banks Packing List 
When you arrive, you will be greeted by beautiful interior spaces, stunning views, and the amenities you will need to feel at home. But before you drive to your remote destination, it is a good idea to pick up groceries since there are no restaurants or stores at the 4x4 destinations. Check out our guide to what you may want to pick up at the grocery store in addition to whatever food and snacks you desire:  
Paper towels 
Dishwashing detergent 
Coffee (and coffee condiments) 
Condiments (mayonnaise, ketchup, mustard, etc.) 
Olive oil and/or butter 
Paper plates 
Countertop spray 
Hand wipes/hand sanitizer 
Toilet paper 
Exploring OBX 
Booking a 4x4 OBX vacation rental in Currituck, NC allows you to feel like you are off the beaten path in a private, remote beach house. During your stay, be on the lookout for the wild horses that are iconic to the area. They may even hang out around your vacation rental! Be sure to not feed them or get any closer than 50 feet from the horses. 
Obtain a fishing license to enjoy fishing in both the Atlantic Ocean and on the Sound. Or, spend a day birdwatching and relaxing at the nearby Currituck National Wildlife Refuge. Both sunset and sunrise present gorgeous photograph opportunities and are an ideal team to visit the wildlife refuge.  Other Outer Banks attractions include golf courses, historical tours, and more! There is no shortage of things to do and see when you are in the Outer Banks!  
Book a 4x4 OBX Vacation Rental 
Staying in a 4x4 OBX vacation rental means you can expect to enjoy amenities like private pools, hot tubs, and oceanfront locations. Spend mornings relaxing on the deck enjoying the ocean breeze or walk down to the beach to feel the sand between your toes. Book one of these unique rentals today to experience the best of life in the Outer Banks!